With 670+ votes, Wind.app became the #1 trending product on Product Hunt!
Wind Learn
DeFi | Earn
October 24, 2023
4 min
How to Get Started with Wind Wallet: A Beginner's Guide to Crypto Remittances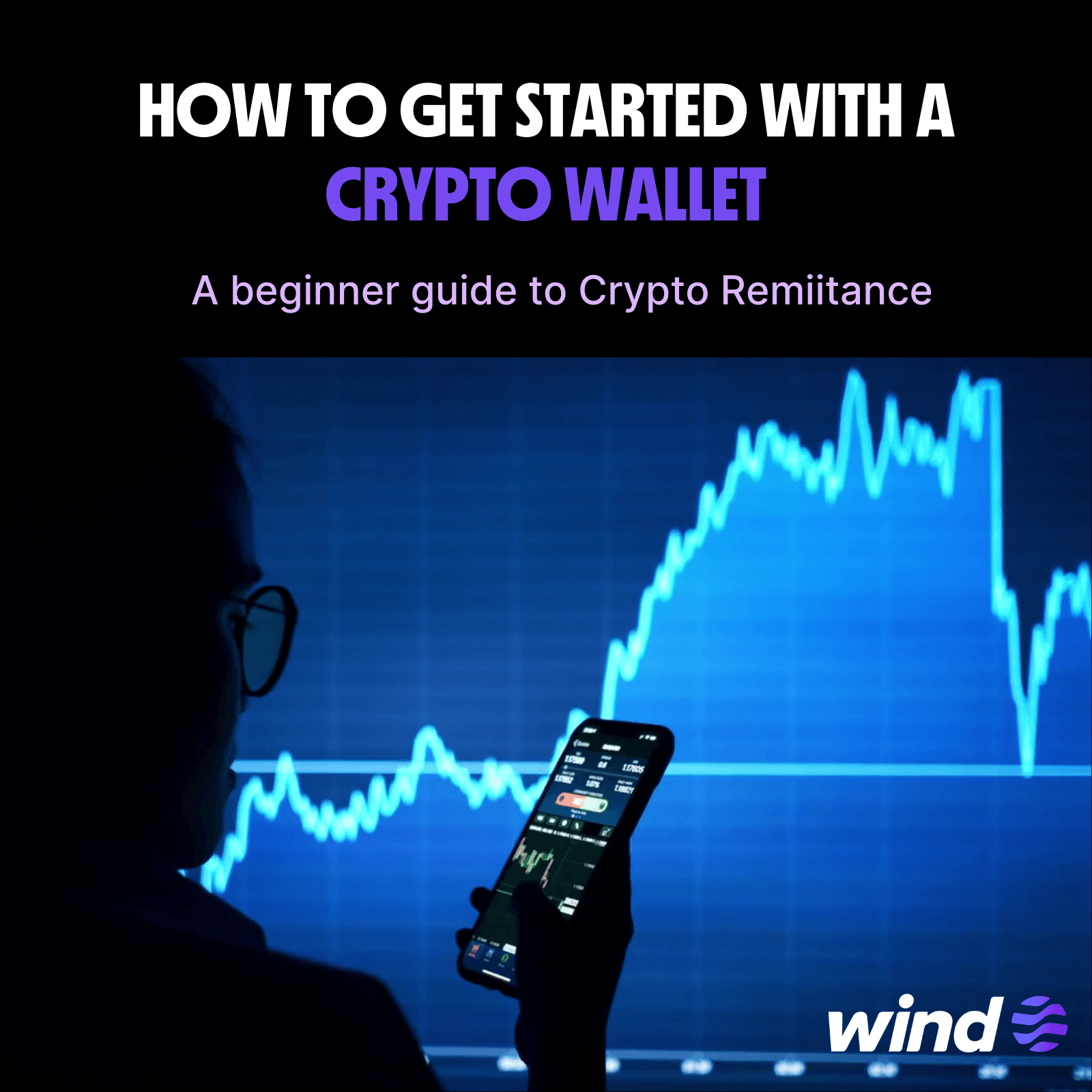 Seeking a speedy, cost-effective, and secure global money transfer solution? Interested in diving into the realms of DeFi, NFTs, and earning interest on your idle funds? Look no further than Wind Wallet, a non-custodial crypto wallet on the Polygon blockchain.
Wind Wallet empowers you to send and receive money globally with minimal fees and instant transactions. It's also your gateway to DeFi, NFTs, token swaps, and earning interest.  This guide covers getting started, personal and business use, and why it's the top choice for crypto remittances.
Quick Start with Wind Wallet
1. Download the App: Get Wind from the App Store or Google Play for iOS and Android.
2. Create Your Account: Open the app, tap "Create Account," input your email and password, and verify your email with the sent code.
3. Backup Securely: After signup, store your vital 12-word mnemonic phrase offline for account recovery.
4. Add Funds: To transact, top up your wallet by depositing tokens or purchasing them via credit card or bank transfer. Identity verification is needed for purchases.
5. Send and Receive Money: Once funded, send to Wind IDs or email addresses, and receive by sharing your Wind ID or QR code. You can also request funds from others.
Personal Finance with Wind 
Seamlessly send funds to family, friends, or for any purpose without fretting over exchange rates, fees, or transaction delays. Your recipients enjoy swift and secure transfers.
Simplify your life by handling utility, rent, or mortgage payments in your preferred currency or cryptocurrency. Experience a hassle-free process without the typical bank transfer complications and fees.
Secure your financial future by stashing away funds for unexpected situations. In the Wind Wallet, you can deposit your funds and earn interest. The flexibility allows you to withdraw your savings when needed, without facing penalties or fees.
Dive into the exciting realms of DeFi and NFTs with unparalleled ease. Wind provides access to DeFi platforms like Aave and facilitates token swaps, all within the app. Additionally, you can explore the world of NFTs using Wind.
Experience Ease for Your Business with Wind
Streamline payments to remote employees, freelancers, contractors, or suppliers effortlessly. With the option to pay in any currency or token, recipients receive funds instantly and securely, eliminating concerns about bank transfers, wire fees, or processing times.
Conveniently receive payments from customers, clients, or partners in your preferred currency or cryptocurrency. Senders incur minimal transaction fees, removing the complexities of payment gateways, merchant fees, or chargebacks.
Unlock new horizons for your business by venturing into new markets or exploring crypto-related opportunities. Wind opens doors to millions of potential customers and clients who prefer crypto tokens as their payment method of choice.
The Wind Difference
Wind charges only a fraction of the fees with most other wallets per transaction, regardless of the amount or destination. This is possible because Wind uses the Polygon blockchain, a layer-2 scaling solution that reduces transaction congestion and costs on the Ethereum network. 
You have full control over your funds. You're the sole holder of your private keys, generated from a 12-word mnemonic phrase. No need to rely on third-party custodians. You can enhance security with options like biometric authentication, PIN code, or password.
Wind isn't only for remittances but also is your gateway to decentralized finance (DeFi) and non-fungible tokens (NFTs). Use Wind for lending, swapping, buying, and selling NFTs. Plus, earn interest on idle funds with customizable rates and durations.
Why Choose Wind Wallet?
Wind  is your top choice for crypto remittances and beyond. It offers a host of benefits for individuals and businesses alike. 
Say goodbye to waiting for hours or days. Wind ensures lightning-fast money transfers across borders. No more intermediaries or delays—send money to Wind users or via email, and request funds effortlessly.
It also simplifies managing your finances. View your balance and transaction history in any currency or token you prefer. Swap between tokens within the app, withdraw funds at your convenience with no penalties, and choose supported banks or e-wallets for local currency withdrawals.
You can earn while you hold with Wind. Watch your funds grow with Wind Wallet. Earn interest on idle deposits, customize rates and durations, and get rewards for bringing friends on board. Plus, explore DeFi platforms, lend and borrow tokens with Aave, swap tokens via SushiSwap, and dive into NFTs with OpenSea.
Wind is now on Product Hunt—upvote and support this innovative project. To embrace the future of finance, download the app from the App Store or Google Play Store today, or visit the Wind Wallet website for more information. For any inquiries, reach out to their customer support.
Wind.app is more than a digital wallet; it's a revolution in how you move money worldwide. Join the wind of change today.
---
Hope you enjoyed this post
Shape Your Web3 Future: Get the 2023 Web3 Payments Report
Uncover the evolution from Bitcoin to Web3's dynamic landscape. Get vital insights, trends, and impacts in this executive summary.