With 670+ votes, Wind.app became the #1 trending product on Product Hunt!
Wind Learn
Business | DeFi | Web3
November 5, 2023
3 min
How to Seamlessly On-Ramp with Wind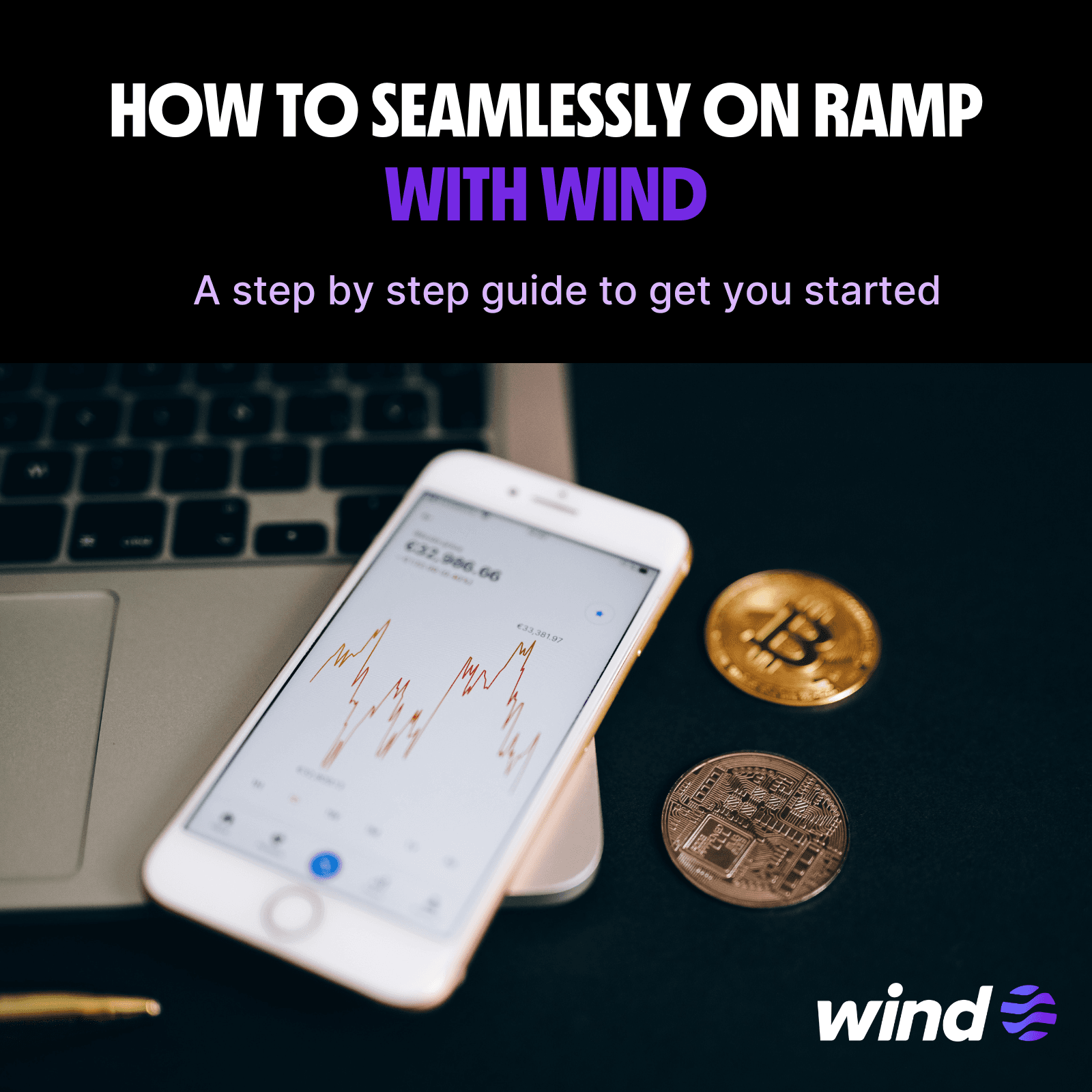 Wind is your gateway to the Web3 world, simplifying cryptocurrency and stablecoin purchase, customization, and advanced features for third-party dApps. 
But that's not all – Wind also lets you easily off-ramp & turn your cryptocurrency earnings into your local currency and transfer them directly into your bank account. 
What is On & Off Ramp?
On and off ramp are terms used to describe the process of converting fiat currency (such as USD, EUR, SGD, PHP etc.) to crypto currency (such as USDC, BTC, ETH, etc.) and vice versa. On ramp is the process of buying crypto with fiat, while off ramp is the process of selling crypto for fiat. On and off ramp services are essential for web3 applications.
For example: if you want to on-ramp $1000 USD, you can use Wind.App to easily purchase USDC.
Why Wind?
Wind is one of the easiest ways to on and off-ramp in the market. It covers a broad spectrum of tokens and fiat currencies, empowering users to pick what suits them best. Wind brings USDT, USDC, and more at your fingertips, making effortless crypto conversions with optimal rates a breeze. 
Supported Fiat Currencies
Wind supports a wide range of currencies for on and off-ramping, including cashing in and out of USD, SGD, INR, PHP, BDT and more.
Minimal Fees
While there are fees associated with sending and receiving funds, they are minimal and primarily cover network fees, typically less than 1 cent. Wind values transparency and ensures that users are not burdened by excessive charges.
Competitive On-Ramp Rates
| | |
| --- | --- |
| Platform | On/Offamp rate |
| Wind | 0.5% |
| Transak | 0.99% |
| Moonpay | 1% |
| OnRamper | 1% |
Compared to a lot of other prime on-ramp platforms, Wind stands out as a clear winner as it slashes costs into half of its competitors & with its swift transaction processing.
Wind Platforms – An API Service
Wind Platform is built for large businesses and other major enterprises.
Partner with Wind Platform to offer the best-in-class FX and On/Off ramp products to your customers: fast, easy, low-cost and transparent.
We allow our partners to on/off ramp from stablecoins or other currencies into local fiat and into a wide range of bank accounts and e-wallets – allowing you to move money internationally into existing infrastructure, creating value for your businesses and customers.
How To On-Ramp as a US resident
1. Go to the 'Add Fund' option, click on the US resident option.
2. Ensure your account is verified after completing KYC.
3. Link preferred bank account for funding.
4. Choose ACH push or wire transfer (Min: $50, Max: $100,000). Allotted transaction fees are displayed. Per transaction limit being $10,000 and monthly limits being $100,000.
5. Input your bank information for the transfer.
6. Open your banking app and transfer money to Bridges account. (You will find the details on the transaction confirmation page or on the Transaction History page).
7. Once you send the money and Bridge receives your funds, it will take usual business days.
How To On-Ramp as a Non-US resident
1. Go to the Add Fund option, click on the Non-US resident option:
2. Follow this step by step guide: How to add funds to your account via Bank transfer.
Get Wind Now!
To use Wind, you need to download the app for Android, iOS, or web. You can then create an account & complete the KYC. Once you are verified, you can link your bank account or card to Wind and start converting your fiat to crypto or crypto to fiat.
Business users will have to primarily utilize the platform business.wind.app, while personal regular users have three options for on-ramping crypto through the app: bank transfer, credit/debit card, or by connecting an external wallet. You can also use Wind to transfer funds to other Wind users or external wallets.
---
Hope you enjoyed this post
Shape Your Web3 Future: Get the 2023 Web3 Payments Report
Uncover the evolution from Bitcoin to Web3's dynamic landscape. Get vital insights, trends, and impacts in this executive summary.