With 670+ votes, Wind.app became the #1 trending product on Product Hunt!
Wind Learn
Business
October 17, 2023
4 min
Takadao Cuts Costs with Swift Transfers by Wind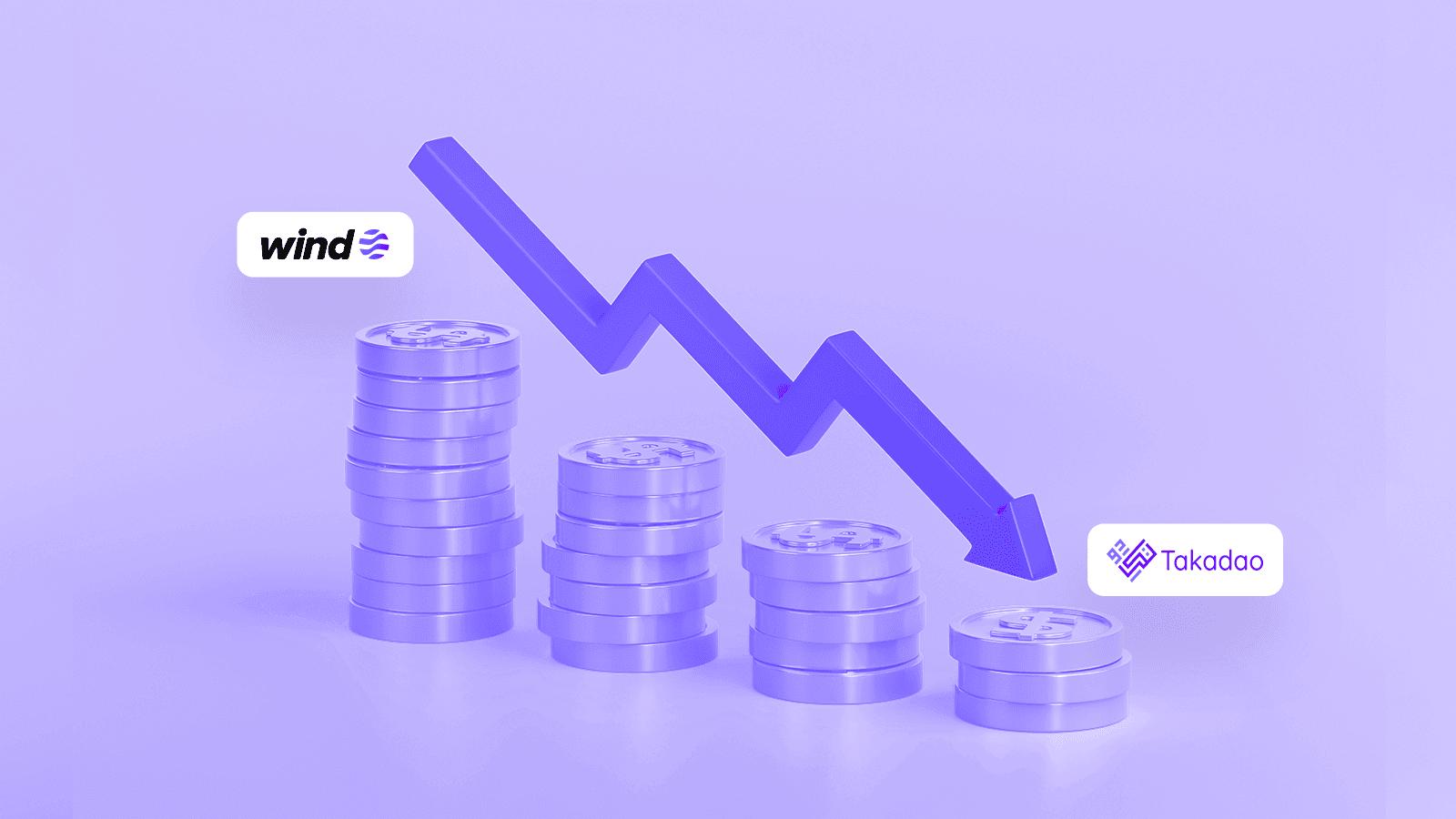 Takadao is a blockchain insurance company that follows Shariah-compliant principles. Wind.App, conversely, is an international payment solution powered by blockchain revolutionizing cross border money transfers. Let's take a look at how Takadao made its payroll process more efficient using Wind.App for paying its team.
Takadao with Wind – A Successful Synergy
The Takadao and Wind.App partnership seeks to revolutionize Takadao's payment processes, solving challenges with a Shariah-compliant solution. Takadao turned to Wind.App for a tailored solution, and it proved to be a perfect fit for their needs. 
Wind implemented a remarkable flat fee of just 0.4% on total payouts, a significant contrast to the industry-standard 2%. What's even better, this competitive fee structure applied consistently, regardless of where the money was headed or the transaction amount. They sweetened the deal by offering real-time exchange rates, further chipping away at costs.
Thanks to Wind's impressive blockchain technology, they ensured nearly instant payouts. By cutting out the middlemen, the payment process became a well-oiled machine, reducing delays and operational hurdles.
Takadao, sending payments to its employees in places like India, Singapore, the Philippines, Venezuela, and Nigeria, reaped the benefits of Wind's currency options. They had access to a wide array of choices, spanning various fiat currencies and cryptocurrencies. This flexibility allowed them to manage their funds in different currencies without the pressure of immediate conversions.
Wind.App prioritized user experience for Takadao's team members. They provided a user-friendly dashboard for tracking payout history, status, and details. Team members could also choose their preferred withdrawal methods, such as bank transfers, cards, or mobile money.
Let's rehash the vast arena of benefits Takadao saw with Wind.app :
Operational Smoothness: Wind.App's solution streamlined operations by significantly cutting payout processing time. What used to take days or weeks now happens in seconds or minutes. Thanks to smart contracts, payroll tasks are automated, reducing manual work and boosting productivity.
Financial Performance: Takadao significantly cut costs on transaction fees and currency conversions. Wind.App enabled them to send payouts at a fraction of the cost compared to traditional methods. The use of stablecoins and cryptocurrencies protected them from currency fluctuations, resulting in substantial annual savings.
Team Satisfaction: Team members at Takadao enjoyed a significantly improved user experience, with faster, more accessible, and secure payouts. They could access their funds conveniently using their preferred method, they could receive their pay via banks or via their Wind account on the same day, highlighting a huge advantage. 
Takadao's User Experience
Team members at Takadao have been pleasantly surprised by the transformative impact of Wind.App. They have a lot of good things to say about the platform, singing praises for its user-friendly design, swift service, and top-notch security.
The ease, speed, and safety that Wind.App brings to the table have made life easier for Takadao's team members. They appreciate the newfound flexibility and convenience that Wind.App offers, allowing them to manage their finances with remarkable simplicity.
In the words of Sharene Lee, Co-Founder of Takadao, 
"We are extremely happy with the services provided by Wind.App. They are one of the fastest and most cost-efficient On-ramp/Off-ramp services that we've worked with to date. We highly recommend it!"
Sharene's words reflect the high regard in which Wind.App is held by Takadao's team. It's not just a service; it's a game-changer that has brought them joy and improved their financial well-being.
Security and Compliance
1. Encryption: All data and transactions on the app are fortified with advanced encryption methods and blockchain technology, guaranteeing decentralized, immutable storage, and verification.
2. Authentication: Wind.App employs biometric and multi-factor authentication to validate the identities of Takadao and its team members. Smart contracts are utilized for secure and automated transactions.
Cost Savings
Takadao is saving big with Wind.App, leaving other payment methods in the dust. Wind.App has made incredible cuts in transaction costs and currency conversion losses. Compared to big names like banks, PayPal, and Western Union, Wind.App's fees are significantly lower. 
Transaction Fees: Takadao benefited from Wind.App's minimal 0.4% flat fee, significantly lower than the industry norm of 2%. For instance, when sending $10,000 to 100 team members across various countries, Takadao incurred only $40 in Wind.App fees, as opposed to $200 from other payment providers.
Currency Conversions: Wind.App allowed Takadao to avoid currency volatility and losses by using stablecoins or cryptocurrencies for payouts. This approach provided stability, regardless of exchange rate fluctuations during sending or receipt.
Total Savings: Takadao realized substantial annual savings on transaction fees and currency conversion costs by choosing Wind.App over alternative payment methods.
All in all, Takadao and Wind.App have revamped payroll, offering a minimal 0.4% flat fee, real-time exchange rates, and near-instant payouts via blockchain. With users worldwide, it caters to multiple currencies, boosting operational efficiency, saving costs, and elevating user satisfaction. Sharene Lee, Co-Founder of Takadao, highly recommends Wind.App for its speed and cost-efficiency.
---
Hope you enjoyed this post
Shape Your Web3 Future: Get the 2023 Web3 Payments Report
Uncover the evolution from Bitcoin to Web3's dynamic landscape. Get vital insights, trends, and impacts in this executive summary.